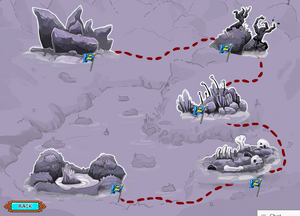 Skork Creek is a mission location. It features mainly kroton soldiers.
The Lonely Pool
Edit
Skorks are the Loneliest; Skork? More Like DORK!; Feeding Time
The Ol' Carrion Hill
Edit
Bones; Tuft of Grass; Marshin' Manhunter
Boggblatter Marsh
Edit
Blasted Boggs!; My Shoes got Wet; It's Getting Chilly
Mount Chillblain
Edit
Seven Bones of Wonder; The Long Road; Sure is Dark
The Gray Reaches
Edit
Ad blocker interference detected!
Wikia is a free-to-use site that makes money from advertising. We have a modified experience for viewers using ad blockers

Wikia is not accessible if you've made further modifications. Remove the custom ad blocker rule(s) and the page will load as expected.